The world is full of beautiful places and landscapes, and we need to take care of it using eco-friendly products. That's why Pritt strives to bring schools, offices and homes around the world the best crafting solutions possible, whilst caring for our planet.
Pritt Stick is made from 97% natural ingredients, predominantly potato starch, sugar and water, allowing your classes to get creative in a way which is both safe and sustainable. This is seen not only through the adhesive formula, but also through the glue stick itself. The 43g Pritt Stick is made from 65% recycled plastic, whilst the 11g and 22g sticks contain 40% recycled plastic. In fact, the glue stick, including its cap, is 100% recyclable - meaning Pritt Sticks are now more sustainable than ever before!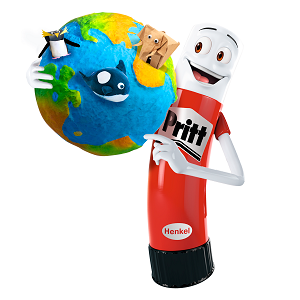 With the new formula, the team at Pritt have found that a focus on sustainability in no way means a compromise on quality. As such, Pritt Sticks air-tight packaging ensures that glue does not dry out – allowing you to keep the same stick for longer!
To help your class celebrate Earth Day this year, follow Pritt's crafting tutorial and guide to create your own Earth mobiles! Stick naturally with Pritt! #PrittStickNaturally
Your handpicked crafting essentials:
Download the printable booklet here or by clicking on the download arrow icon below.