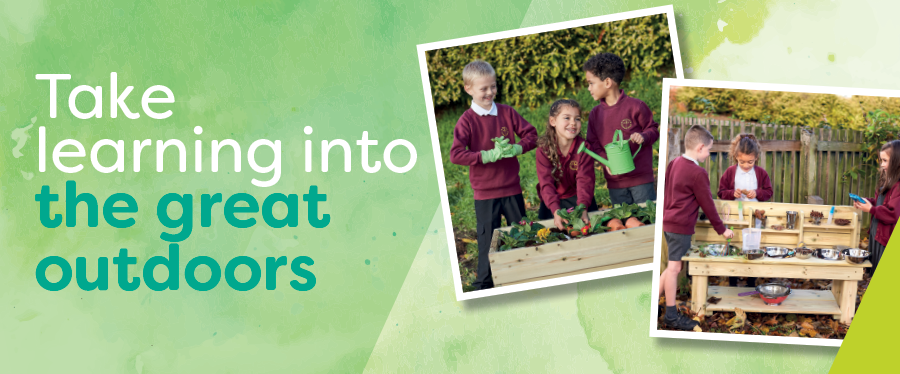 Whatever the weather, our Outdoor Learning and Play range is filled with versatile and quality resources to encourage your class to get into the great outdoors! With new products added to the collection and outdoor activities to get stuck into, we have everything you need to take learning outside.
To browse the full Outdoor Learning and Play range, click here.


Grow your own organic veggies
Get your class involved in an all year round project with growing their own organic veggies! Not only will this help them to reap the benefits of being outdoors, but it will encourage them to learn more about how vegetables grow, help boost self-confidence and develop teamworking skills with the responsibility of their own little project.
Top tip: Use our labels and keep a photo log of the growth of your veggies every month to see how your outdoor project progresses!
---
Create mini outdoor teaching and play spaces with tuff tray stations!
Tuff trays are a great resource as they can be used as a mini outdoor teaching space, as well as helping to engage, spark imagination and foster creativity. With a wide range of products to inspire outdoor learning, we have picked out some of our favourites that can be used with tuff trays including curriculum, messy play, sensory play, and exploring nature!
Top tip: Create multiple different tuff tray stations outdoors so your class can have time learning, exploring and playing with each one!
---
Understanding the world
Encourage your class to explore the outdoors and understand the natural world using our outdoor activity sheet! By getting children to identify different types of animals, bugs, plants and trees in the school gardens, they can learn more about the nature around them and how important it is to look after our environment for them to thrive and live in.
Top tip: Use our activity sheet alongside some of the resources below to create interactive and engaging outdoor lessons!