Reconomy, a supplier on our Hazardous and Specialist Waste Services framework (378), discuss sustainable value and working towards zero waste.

Increasingly in waste and resource management we are working with customers who are looking to follow a sustainable business strategy across the 'triple bottom line' of commercial, environmental and social value. One important business ambition within Framework 378 is to work towards zero waste - where all items of waste produced are able to be turned into a future usable resource.

Of course, the practicalities are very different depending on your sector and operational activity. For example, in construction there can be more options to treat and reuse materials on-site, whereas in retail, events and facilities management the challenge and focus may be on simply finding ways to increase recycling rates as much as possible.
We see lots of examples of good practice, and the businesses that place the most
emphasis on embedding their environmental goals within the organisation tend to have a higher level of success.
Reporting on environmental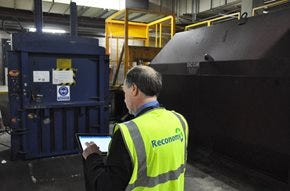 targets regularly alongside top-level commercial KPIs, 'walking the talk' by role-modelling behaviour at office locations and appointing waste or resource champions around the business are all possible ways to create the right culture.

For those businesses that are already well on their journey towards zero waste, it might be the right time to start thinking about sustainability in the broader context and looking at your social value strategies. Having strong, integrated plans to generate value in the communities that we operate in is not only a good thing to do ethically, but also makes good business sense.

More and more procurement processes are starting to increase the importance of social value generation as a requirement within supply chains - preferring suppliers that create employment opportunities, promote diversity, focus on health and wellbeing and, in the current context, help communities recover from the local impact of COVID-19.

Whatever your individual sustainability goals, our experience is that an alignment of targets and strong collaboration through all levels of the supply chain can help you create a real lasting social impact alongside the core environmental performance attached to your waste and resource management.


To find out more about our Hazardous and Specialist Waste Services framework (378) click here or contact the team on place@espo.org.

| | |
| --- | --- |
| | |