The retention of motivated employees plays a significant role to an organisation's success and productivity. An attractive employee benefits package can not only help you recruit new talent, but it can also increase loyalty with your existing employees and reduce staff turnover which, if not managed, can prove costly for organisations.

We understand every employee has differing factors that keep them motivated and engaged, so to help cover these requirements we have a dedicated Staff Benefits framework (319) which offers a comprehensive range of schemes that combine quality and value.

From individual schemes to a fully managed service encompassing multiple schemes, the framework offers a quick, simple and competitive route in supporting the wellbeing, engagement and retention of your employees.


What staff benefits are available?

Car Leasing (Lot 6)
A scheme for car leasing enables employees to acquire a brand new car.
Fully Managed Service (Lot 1)
The Managed Service Provider (MSP) will work with employers to develop and manage a 'total benefits' package.
Childcare Vouchers Salary Sacrifice (Lot 7)
Childcare Vouchers via salary sacrifice allow employees to fund registered childcare across the UK for their children.

Leisure and Retail (Lot 5)
Employers offer employees the opportunity to purchase a range of products and services at discounted rates. The offers consist of discounted retail vouchers, re-loadable cards and cash-back.
Cycle to Work (Lot 2)
Bike loans operated through salary sacrifice arrangements typically run over 12 or 18 months.

Technology Products (Lot 4)
New technology can be purchased through this arrangement by employees.





Financial Wellbeing (Lot 3)
For addressing financial wellbeing via routes such as consolidation of loan repayments, saving options and general financial advice.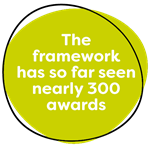 For more information on our Staff Benefits framework (319) please click here or contact our Managing People and Professional Services team on: