At ESPO we aim to make all of your purchasing requirem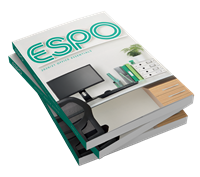 ents as simple as possible, whether it's for a large consultancy contract or a new desk chair. To complement our comprehensive framework offering, we have a brand new 2020/21 catalogue which we're proud to share with you.

Please note that this catalogue is designed for our non-education customers. If you already have a copy of our Primary or Secondary catalogue for 2020/21, you will not need this catalogue too. Please click here to read more about our new education catalogues.


Handpicked to meet your needs
We are always customer focused and have handpicked products to produce this catalogue with your needs in mind.

Our products have been categorised into six useful sections to help you find the right resources for you:

As a fellow public sector organisation, we understand the growing pressures on your sector so our catalogue has been created for you to access essential items quickly and easily, without stretching the budget. Shop online or request your copy here.

What's new?
We have an improved range of products across all categories, introduced bulk paper to the catalogue and enhanced our popular selection of white goods. You can view our dedicated White Goods catalogue online here.

Our Smartbuy range has also undergone a complete rebrand so it now has a fresh new look and feel - just look out for the Smartbuy logo in the catalogue.




Will I be compliant if I order directly from the ESPO catalogue?
The contracts and frameworks awarded by ESPO (acting as a Central Purchasing Body) for the products featured in this catalogue have been awarded in compliance with the Public Contracts Regulations, so you can be assured of ESPO's compliant procurement exercise when making purchases from the catalogue.


Why ESPO?
ESPO is a Public Sector Buying Organisation (PBO) with over 40 years' experience of supplying public sector organisations. We have achieved the 2020 Feefo Platinum Trusted Service award, having achieved the Feefo Gold standard for three consecutive years, demonstrating our commitment to providing high quality customer service, so you know you are in good hands with ESPO.



Looking for white goods?
We have a dedicated brochure just for this selection of products which you can find here.


Receiving your catalogue
If you are already an ESPO customer, your catalogue may already have arrived. However, with the development of the coronavirus situation we have not been able to get these out to as many customers as we would like and so we wanted to make you aware that you can order a copy online to be sent out to you.
If you would like to order a copy or request additional copies, you can do so by clicking here or on the 'Request a catalogue' link on any web page.

You can also shop online or place orders electronically via your finance software. Please note this will need to be updated with the latest version of the catalogue for accurtate pricing.



If you would like to become an ESPO customer you can register for an ESPO account today.