With the all new espo.org, we've waved goodbye to the lengthy paperwork associated with procurement solutions. All of the necessary documentation has been brought together in one place, creating a simple digital process to access everything you need, right at your fingertips.
Here are some of our favourite features on the new espo.org to save you time and make your procurement journey even easier:

On each Framework page there are three tabs shown under the introduction to the Framework.

The Overview tab offers the key information for each Framework, allowing you to determine if this is the right solution for your needs in minutes.

Once you've found the Framework solution to fit your needs, you can head to the Get Started tab. Here you will find all of the relevant documentation, from quick start guides to the Confirmation of Award form. The framework has been broken down into three stages with clear actions to help make managing your procurements simple and the process as streamlined as possible.
Remember to log in for access to all of the documentation.

Have a question about a framework or how the process works? Our Get Help tab is there to make contacting our team quick and simple. An expert member of the team is available via the contact details at the top of the page. Alternatively, you can use the form, sent directly to the relevant team who will get back to you as quickly as possible.

Our Supplier Contact Form removes the hassle of looking for contact details and provides an easy digital form, sent directly to suppliers on the Lots you are interested in.
Once you have completed an Access Agreement, the Supplier Contact Form is available in Stage 3 of the Get Started tab. The form will pop up asking you to pick the Lots you are interested in.

Any suppliers available on the Lot/s will then be ticked automatically. You are able to untick any you do not wish to contact.

You are then able to create a message and add any relevant attachments that will be sent directly to the suppliers on your behalf.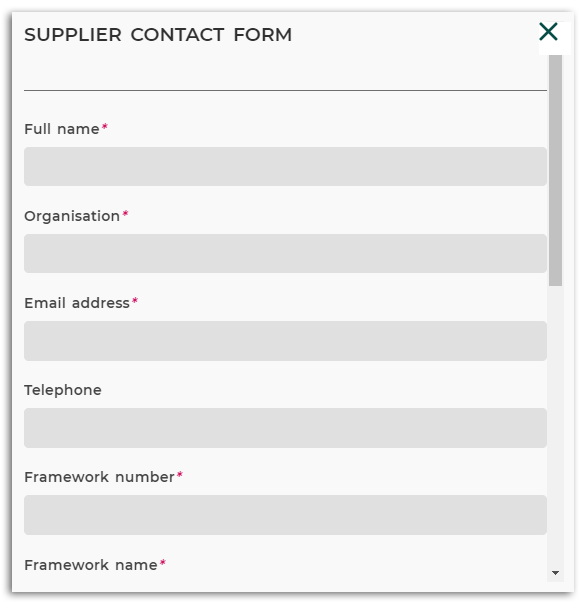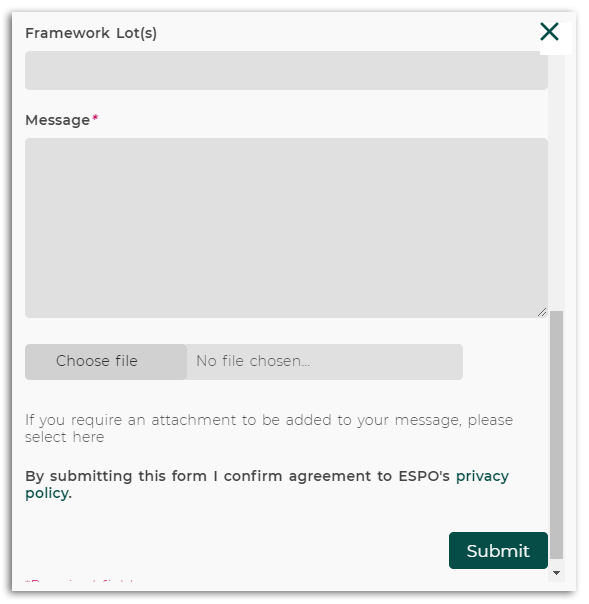 This is a quick and easy solution to finding out:
If they have capacity for your requirements
Further clarification on specific requirements
Check latest prices for Call-Off arrangements
Arrange a meeting
Let suppliers know about a buyer's day you are holding
Let suppliers know they're due to release a PIN for a further competition
Remember! Be sure to check the direct award rates before contacting our suppliers for pricing. Can't find what you need? If what you're looking for isn't available as a direct call off, you should carry out a Further Competition and all suppliers on the Lot should be invited to submit a bid.
Suppliers will receive an email notification of your submission of the Supplier Contact Form and will be able to respond to you directly.

Track past and current procurements with the Framework Progress section on your profile.
All of the frameworks you have accessed will be listed here and the handy action buttons let you know when an action is required to continue.

All of the frameworks you have accessed will be listed here and the handy action buttons let you know when an action is required to continue.