Article produced by Jess Clifton, Marketing Manager for LEGO Education.

Emotions are a complex element in our everyday lives, and for young children who are going through early experiences of the world, they can be particularly difficult to understand. Teachers are a key figure in the development of pupils, not just academically, but also socially. In fact, research from Harvard University claims that these two strands of development are inextricably linked, as they equally contribute to a child's readiness to interact with the world around them.

Here, Jess Clifton from LEGO Education discusses how hands-on resources can be used to support this early emotional development and provide pupils with the skills they need to become well-rounded members of society.

Learning about emotions, relationships and society is critical in childhood development. In many cases, early education provides pupils the opportunity to explore their sense of self, and discover how they interact with the people around them. At this age, children are learning how to differentiate between facial expressions and developing an understanding of concepts such as sympathy and empathy. Teachers have a key role to play in this through PSHE lessons and encouraging positive dialogue about emotions and friendships in all lessons, teaching pupils how to communicate, share and resolve problems.

Learning through play is essential for young pupils, as it lets them creatively explore and develop their understanding of how feelings work and what they look like when displayed by the people around them. Sometimes, children can struggle to communicate how they're feeling, particularly at times when they've experienced something negative or distressing in their lives, and providing an environment where these can be addressed safely is essential to their wellbeing.

Hands-on activities are very helpful in this process, as it keeps pupils engaged and allows them to express any thoughts that might be difficult or scary to address. Arts, crafts and games are great for encouraging this expression and help them to actively consider their state of mind. Physical resources like LEGO® Education's Build Me "Emotions" help pupils to create representations of themselves, their families or friends, which can then also be given a particular expression to show their feelings.

| | |
| --- | --- |
| These practices and resources help in developing emotional literacy, which in turn allows children to recognise certain emotions as well as the issues that can cause them. It also shows them how to channel their feelings in a healthy way and behave appropriately. In addition, it builds a recognition of how their attitude and behaviour will impact the people around them, looking at the physical appearance of emotions and how they might be understood and responded to by others. This is also applicable in the reverse, as children can be shown how to react compassionately to their friends and family when they display these signs of distress or sadness, as well as sharing in their happiness or solving angry disputes. By using representations of people, pupils can work through a variety of situations to find the most appropriate response. | |

For example, you could use models or characters to pose a scenario where a pupil is being teased by someone in their class, making them sad. Possible solutions include trying to avoid the bully, seeking out teacher support, or lashing out at the other pupil to get them to stop. The first idea might remove the pupil from the negative situation and improve their mood; the second proposal may lead to the bully being told off, making them sad or angry, but also might resolve the problem; whereas the final option will most likely make everyone agitated and upset. These discussions will help pupils gain an appreciation of emotional effects and an awareness of their actions in the perspective of others.

As it is in most areas of education, collaboration is key! In social and emotional learning, this is even more important, as it gives pupils the opportunity to look at the differences and similarities of physical characteristics between themselves and find a point of reference where they can relate to one another. As they move through school, problem-solving and teamwork will become more and more crucial, and the more group work that can be done in early education, the easier they will find it to adapt to new people and teams. We live in a highly-connected world with diverse people and cultures, so it's essential to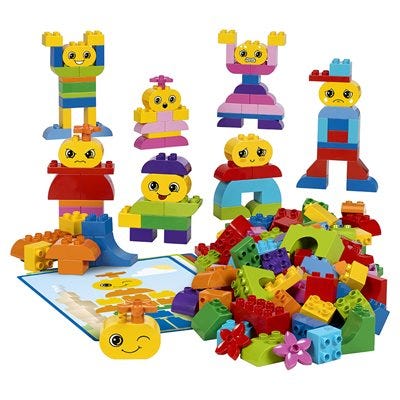 understand how to navigate the social sphere in an emotionally sensitive way.

At the heart of education is a dedication from teachers to support their pupils academically and emotionally, ensuring that their mental wellbeing is at the forefront of all considerations. It's important to teach children about their emotions from an early age as it helps them to become resilient, learn how to learn and work with the world around them in a productive, compassionate way.


About LEGO Education
Children love LEGO®. They love to play with it, create with it and explore with it. At LEGO Education we use the power of that relationship to transform learning. LEGO® Education preschool solutions stimulate children's natural curiosity to explore together and learn through play. The safe, durable LEGO Education solutions develop pre-schoolers from where they are and give them the social skills to collaborate and communicate with the world around them; letting them discover their own capabilities and acquiring fundamental skills for school readiness and for life.