With Easter just around the corner, we have created an Easter inspired how-to guide and selected a few of our craft products to ensure you and your class have a truly cracking time! We would love to see how you are all celebrating Easter this term and don't forget to share your finished creations with us on our social media platforms - Intsagram, Facebook or Twitter.
You will need:
Lollipop sticks (3 per chick)
Yellow & Orange card
Yellow tissue paper
Yellow paint
Scissors
Glue
Paint brush
Pencil
Black marker pen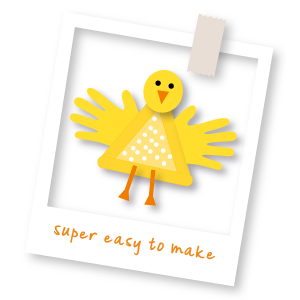 Glue three lollipop sticks together to create a triangle shape and paint them yellow.
Draw around both hands on a piece of yellow card and cut them out to form the wings. Make sure to cut a small circle out for the head too.
Using the orange card cut out feet and a small triangle for the beak.
For the body, trace the outline of the triangle lollipop sticks onto some yellow tissue paper and cut out.
Once the paint is dry, glue the tissue paper to the back of the lollipop sticks, followed by the wings.
On the front, glue on the head, beak and feet and to finish off use a black marker to add features.




---