 Under the Energy Performance of Buildings (England and Wales) Regulations 2012 and the Building Regulations 2013, Environmental Performance Certificates (EPC) and Display Energy Certificates (DEC) have become a legal requirement under certain circumstances.

Are your certificates up to date? Our Energy Performance of Buildings framework (343) offers a quick and simple route to meet your requirements and ensure you are fully compliant.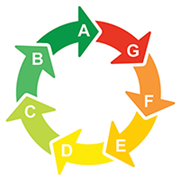 Environmental Performance Certificate (EPC)

Who requires an EPC?
It is a legal requirement for an Energy Performance Certificate to be provided whenever a building is constructed, sold or rented. This can even include additional buildings such as schools that have caretaker bungalows or extra buildings which they rent out to private nurseries.

What is an EPC?
The certificate shows how energy efficient a building is. It consists of an energy efficiency rating and an environmental impact rating (the environmental impact rating shows the levels of CO2 emitted).

Each energy rating is based on the characteristics of the building itself and its services (such as heating, lighting, ventilation and insulation). This is often known as an asset rating and it will reflect considerations including the age and condition of the building.
What is included in an EPC?

An EPC gives a property an energy efficiency rating from A (most efficient) to G (less efficient) and is valid for 10 years.

The EPC is accompanied by a recommendation report, which provides suggestions on how to use the building more effectively, cost effective improvements to the building and other improvements which could enhance the buildings' energy performance. The EPC is also able to show the rating that could be achieved if all the recommendations were implemented.
Did you know, prices for an EPC through the ESPO framework start from as little as £74.42


Display Energy Certificates (DEC)

Who requires a DEC?
DECs are required for buildings with a total useful floor area of over 250m² occupied by public authorities and by institutions providing public services to a large number of persons and therefore frequently visited by those persons.

What is a DEC?
The certificate indicates how efficiently energy is being used in the building, for example, how much energy is being used to operate the building. They are based on the actual amount of metered energy used by the building over a 12 month period.

What is included in a DEC?
The advisory report, which is issued with the DEC, stipulates cost effective measures and recommendations that can be taken to improve the energy performance of the building.
Where the building is between 250m² - 1000m², the DEC and advisory report are valid for 10 years. Where the building is larger than 1,000m², the DEC is valid for 12 months. The accompanying advisory report is valid for 7 years.
"I used this framework to get a DEC for our school by choosing the fixed price section and it was very convenient, economic and time saving. I have had an excellent experience and will be using the framework again this year."

Maria Martin, Business Manager, Hallfield Primary School
"ESPO frameworks offer us an efficient and effective route to access purchasing deals that wouldn't otherwise readily be available to us as an individual school. I've always received excellent service and support when using the frameworks."

Lorna Beasley, School Business Manager, Middlemarch School
View our Energy Performance of Buildings (343) here.

Contact our Energy team for further information on:
t: 0116 294 4042 | e: energy@espo.org