 Attain, a supplier on our Consultancy Services framework (664), talk about the four key drivers of integration in health and social care.
Integration looks different in every area: virtual, physical and digital, yet all seek to achieve a positive change for the health and care economy and the community it serves.

The drivers for health and care integration include a desire to reduce emergency bed days, improve the quality and efficiency of care, and reduce duplication between multiple organisations involved in the care of an individual.

There are several key areas to focus on when integrating health and care services, and in this article, we consider four of those areas we believe are most pertinent;


Population health management
Central to the question of integration is 'integration of what services and for whom?'. Defining the target population for integrating services is crucial to ensure that:

The right services are integrated
The model of care is designed to meet individual needs
Evidence in the case for change and evaluation is robust

Population grouping is fundamental in determining an integrated service model. The focus should be on understanding the holistic needs of that segment, along with the interventions and overarching model of care required to address their needs.

Segmentation also supports a focus on prevention, ensuring that the 'healthy' population cohort is supported to remain healthy, and that people with health and wellbeing issues can avoid deterioration, which would see them move to a more complex cohort.

The starting point is to define population segments clearly, mapping the past resource utilisation of this segment and predicting future resource use via risk stratification information where possible. This can then be benchmarked against other areas and also underpin developing realistic population health budgets, increasing overall efficiency.


Digital integration
One of the biggest practical barriers to integration is multiple systems, an inability to see a shared care record and systems not 'talking to each other'. This can also be a barrier to getting the right baseline and high-quality data to evaluate the impact of a new care model.

When integrating health and social care services in the community, consider focusing on:

A digital strategy to underpin the delivery of integrated services on the ground in the medium to long-term.
Quick fixes to alleviate the pressure, duplication and hindrance for operational teams across organisations trying to work together differently.
Clarity on the processes – work with professionals and service users to rationalise paperwork, create single assessments and support plans to make sure it meets the needs of those using the service and supporting organisations.
Invest time in collecting baseline data, an evaluation plan and identifying analytical skills and capacity to do this.

Co-production and engagement
Another key challenge integrating care is the cultural change within teams, organisations and systems required to provide services more effectively.

Co-production during design is crucial to this. The best examples of integrated care we have seen and worked within, have been those which have genuinely co-produced with their staff teams, service users, carers and wider stakeholders. This can seem slow and challenging but yields the most sustainable results.

Often within systems buy-in and commitment is absolutely clear at the top of the system and at the frontline, clinicians and professionals are working together well to do the right thing for service users. However, often this stops in the middle. Middle managers can often be barriers to transformation. Most resistance comes from operational managers who have not been fully involved in the design and have been too heavily focused on meeting budgets and targets. By involving and empowering this group, they will become the enablers for change – able to quickly spot issues and drive real operational change from the frontline.


Enabling commercial mechanisms to support operationally integrated models
Our experience has shown us that the biggest impact is made when transformation is done with and as closely to service users and frontline staff as possible. However, this alone is unlikely to drive the level of transformation required. There are important aspects within the 'form' discussion which can underpin and drive the behaviours and transformation required on the ground. These include:

Alignment of financial incentives to ensure the whole system is incentivised to deliver the agreed outcomes
Commissioning and contracting across a range of providers to support the required outcomes
Effective and collective leadership focused on quality improvement

Many of these core elements will require a change in the way services are commissioned, their associated contractual arrangements, and the way in which organisations work together. Whilst a change to organisational form is not a prerequisite to integrate services, the impact of integration is reliant solely on the ability of frontline staff and managers to make it work.

Implementation of the commercial changes do not need to be 'big bang' nor absorb capacity in the legalities of forming new organisations. Outcomes based commissioning and Alliance contracting are just two ways in which the ambition can be practically realised.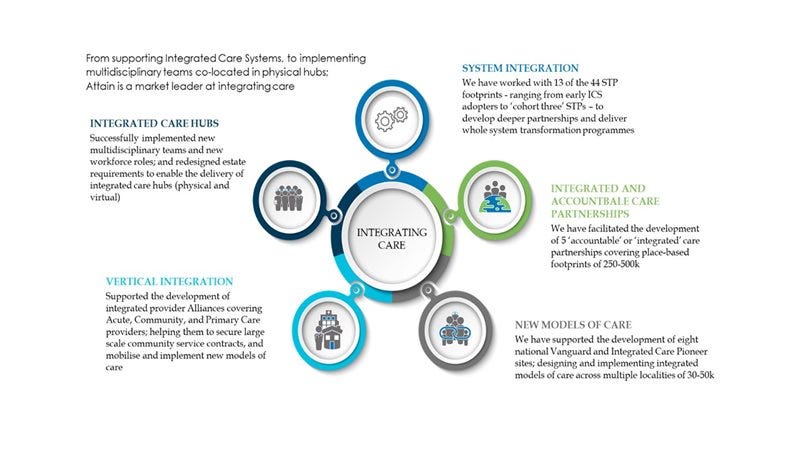 Attain can be found on lot Lot 4b: Social Care (Adults) of our Consultancy Services framework (664). For more information please click here.