 Whether you currently benefit from ESPO's Energy frameworks or you have another solution in place, it is worth checking that the supplier is billing to those competitive rates you agreed to.

ESPO's Energy team provide invoice validation service for both gas and electricity. Energy experts are able to examine your invoices to see whether you are being billed as per the contract agreed and for only the energy which you have used.

What does the service include?

Data management

Invoice validation

Query management solution

Cost recovery

Portal access 24/7

Bill pay*

How does it work?

Bureau service
Each month copies of your bills will be sent to our Energy team who will load them onto our validation software to check to see if they meet your contract criteria. It will also check if you have been billed on estimated reads for several months, if the site is your responsibility and if any new sites have joined the contract and billed for the first time.

A report is created for you detailing which sites have passed or failed so you can make any payments to your supplier. ESPO will liaise with the supplier to resolve any failed bills.

Fully managed service
Just like our Bureau service we will check your bills for any discrepancies but as part of our fully managed service you do not have to pay for any incorrect invoices as these are held until corrected. ESPO will liaise with the supplier to ensure the charges are correct. You will pay the correct billing amount to ESPO and we will pay the supplier on your behalf.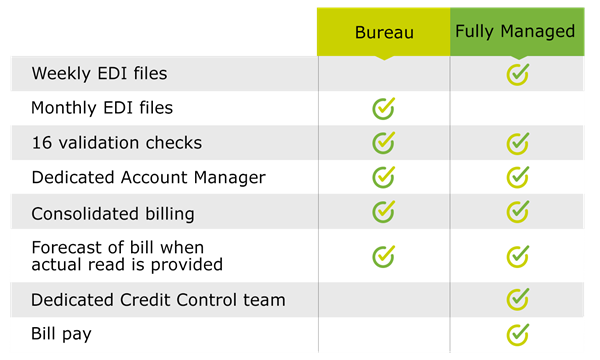 Remember you don't have to be an existing ESPO customer to access this service!


If you would like to find out more, please contact the Energy team on:
0116 294 4015